It's Never Too Late to Talk Marriage Part IV
Call us at 810-923-5760
We can help you take the next step in living life.

The Delicate Relationship Balance
How many times have you dealt with a direct power struggle between you and your teenager…or you and your toddler for that matter? When you are in the midst of a power struggle with one of your children, it is often painfully clear what you are dealing with. In our marriages, however, it can be more difficult to detect when the balance of power in the relationship is misaligned.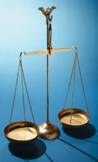 When I meet with couples in marriage counseling, I often observe a dynamic of one spouse being in a position of having more control in the relationship. In many cases this dynamic represents an important, yet agonizing stage in the marriage – the Power Struggle. Most often, the couple does not realize the balance of power in the relationship is amiss.

To help a couple determine if the power and control in marriage is unequal I have them answer a few questions like the ones below.

Which one of you has a greater need to be in control? 

Who usually gets their way regarding what the two of you will do during the course of a day?

Which one of you has more self-confidence? 

Do you think one of you feels superior to the other one in the relationship? 

Who is more emotionally reliant on the other?

Does your partner often criticize anything you say or do?

Do you feel like you can't do or say anything right?

Do you feel like opponents rather than loving spouses?
Depending on your answers, you may have more power in the relationship or you may be allowing your spouse to control you. In either case, it is important for each spouse to recognize that there exists a disproportionate amount of control in the relationship.

What is the wonderful thing to understand, is that working through power struggles is a critical stage of marital longevity. Research has found that after couples have gone through the Romance stage in marriage, they are faced with the Power Struggle stage. For example, after romance has faded, the wife may want more time with her friends and the husband more time for hobbies.


How does this ultimately affect marriage? As couples mature in marriage their attitude toward marital independence changes. These altering attitudes often are displayed by classic signs of a power struggle. If a couple is aware that this is a natural progression in the life-cycle of a marriage which is actually necessary for the longevity of the marriage, it can make this difficult time much more bearable.

To help couples survive this challenging stage of their relationship there are a variety of interventions that can make great strides in bringing equilibrium back into the marriage. For example, it is important to understand that power struggles with your partner often originate from various unmet childhood needs and a set of core beliefs. We need to look at how we might be using our childhood strategies unconsciously to try to resolve those unmet needs. In addition, it is critical to recognize the fundamental beliefs about ourselves and how that affects our reactions to our spouse. Learning what our triggers are as well as that of our spouses is another critical step in dealing with power struggles.

Through awareness, analysis, and understanding, your marriage can begin healing and growing into the long-term, deep relationship you have always wanted. It is truly never too late to have the marriage you desire. With the help of a Living Life counselor, seeking God's direction through therapy, and focusing on the boundless love of Jesus Christ you can begin living life to the fullest.

Check back to our website or follow the Living Life Blog for new editions to our It's Never Too Late to Talk Marriage Series. For information on Living Life's marriage counseling approach click on Marriage Counseling for further details.

How to Contact Us
Our staff can begin helping you immediately to begin living the life you truly desire. For maps and directions to our Brighton office please go to the Office Locations page on this website or call us at 810-923-5760.  To send us an email go to the Contact Us page on this website and complete the Contact Us email submission form.

Living Life Serves the Detroit Metropolitan Area

Living Life is proud to be providing Christian counseling to the many communities in Southeast Michigan including Ann Arbor, Brighton, Canton, Dearborn, Detroit, Dexter, Fowlerville, Farmington, Farmington Hills, Hartland, Howell, Livonia, Milford, Northville, Novi, Pinckney, Plymouth, Salem, Saline, South Lyon, Southfield, Superior, Walled Lake, Wayne, West Bloomfield, Westland, Whitmore Lake, Wixom, Livingston County, Oakland County, Washtenaw County, and Wayne County.

Home Page