It's Never Too Late to Talk Marriage Part III
Call us at 810-923-5760
We can help you take the next step in living life.

Facing Marital Challenges - Time
The outside pressures that can negatively affect our marriages occur on a relentless basis. People have asked me - What comes first . . . a happy, healthy family or a thriving marriage? After countless hours of working with couples, I have come to the definitive conclusion that a solid, close, intimate marital relationship provides the foundation for a healthy, happy family. When adding your dependency on Jesus Christ, this provides an additional pillar to ensure a solid family balance.

Unfortunately, no matter how strong a foundation we have, I often see that TIME or the lack of it, eroding the fruitful base that we have established for our marriage. Whether you both work or not, time is always at a premium. Time is not a commodity we can buy more of, it truly is a scarce resource. On a daily basis a husband and wife have to address the challenge of carefully allocating their time between children, home, each other, and even just themselves. Do these demands below sound familiar?

Children – Get them to school, get their homework done, get them to their extracurricular activities, and get in your quality parenting time. If that was the only thing you had to do in a day, you would still be in need of more time. The time we need for our children is enormous, yet so priceless to them.

Spouse – Combine the needs of your children with the needs of your spouse, and feeling overwhelmed can be an understatement. I find that communication within marriage is THE most critical area that requires focus and dedication. However, without time, communication absolutely suffers.

Home – For so many women, keeping all the areas of home functioning is a monumental task. I have received feedback from so many mothers that they never, ever feel like they are caught up. For those working mothers, that feeling is more often a reality. For men, between keeping up with the ever-more demanding requirements of the job, plus doing what is needed around the house can be equally as daunting.

You – We all need quiet time – time with God, time to relax, time to regroup. If we don't have time to rejuvenate ourselves, we won't have the energy to be fully engaged in the time we spend with our children and our spouse.

If any of these points resonate with you or even make you tired reading them, you are most likely in need of some old fashioned time management techniques. Here are some simple strategies to make the best use of your time as possible.

Your Marriage – Sit down with your spouse to look at the areas in your life that are robbing you of time with each other and your family. Secure a babysitter and ask your spouse out on a date. Surprise your spouse with a candlelight dinner after the children have gone to bed. Finally, LISTEN to what your spouse is saying. It is so difficult in our fast-paced world, to stop to truly hear and receive what our partner is sharing with us. Most of all – smile and laugh.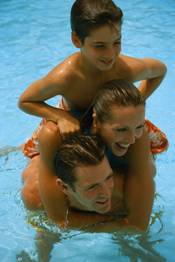 Your Family – First, make it a point to turn off the computer, TV, iPods, PSPs, etc. These distractions erode the amount of time your family has together. Mom and Dads – that means you too. Second, get organized! Schedule consistent family time together. Plan your activities together, and ensure that having fun is a high priority.

Your Walk with God - You need time alone with God to connect with Him. Remember that praying simply to God throughout the day will help you connect with Him. Also, talk to your spouse about areas in your faith journey that need to be tweaked. As you make your devotion to Christ a visible priority in your family, you will begin to see everything else fall into place.

Check back to our website or follow the Living Life Blog for new editions to our It's Never Too Late to Talk Marriage Series. For information on Living Life's marriage counseling approach click on Marriage Counseling for further details.

How to Contact Us
Our staff can begin helping you immediately to begin living the life you truly desire. For maps and directions to our Brighton and Livonia offices please go to the Office Locations page on this website or call us at 810-923-5760.  To send us an email go to the Contact Us page on this website and complete the Contact Us email submission form.

Living Life Serves the Detroit Metropolitan Area

Living Life is proud to be providing Christian counseling to the many communities in Southeast Michigan including Ann Arbor, Brighton, Canton, Dearborn, Detroit, Dexter, Fowlerville, Farmington, Farmington Hills, Hartland, Howell, Livonia, Milford, Northville, Novi, Pinckney, Plymouth, Salem, Saline, South Lyon, Southfield, Superior, Walled Lake, Wayne, West Bloomfield, Westland, Whitmore Lake, Wixom, Livingston County, Oakland County, Washtenaw County, and Wayne County.

Home Page